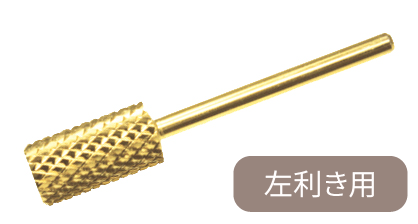 Nail Labo Gold Bit Extra Coarse For Left Handed
The much-requested gold bit - extra coarse joins the Gold Bit series, which is "reasonably priced, yet sharp and gentle on the skin"!

Coarser than coarse, it can efficiently remove thick gels, hard gels, and acrylics. 
The 24-karat gold coating is popular because it does not get hot and does not clog easily.
Since it has been chamfered, it has safe specifications that does not damage the skin, even if it comes in contact with the corner. 
In order to achieve accurate cutting power and light operability, we have newly adopted a left-handed blade (only for REVERSE rotation).

Appropriate RPM: 8,000–13,000 RPM

Share