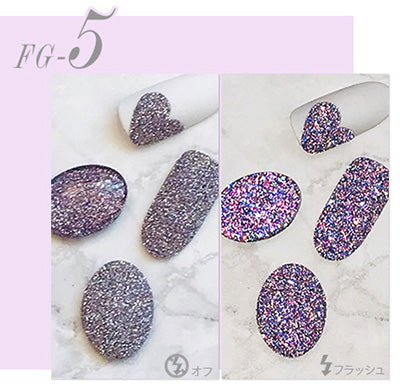 ageha Flash Glitter (FG-5)
ageha original glitter that changes the way it shines depending on the normal lighting or the flash light.
For Glossy Finish:
Step 1: Mix the glitter with ageha Mixing Gel on a pallet. You can control how much glitter you want to apply on your design.
Step 2: Apply the glitter gel on nails and cure with LED or UV light. Then, apply the second coat and cure. We recommend applying two coats rather than one thick coat for an even finish.
Step 3: Apply top coat, cure and wipe the uncured gel (sticky layer).
For Sugary Finish:
Step 1: Apply ageha Charm on Non-Wipe gel or Non Wipe Top Gel on nails, then sprinkle the flash glitter evenly before curing. Be careful not to sprinkle the glitter too much to prevent insufficient cure. 
Step 2: Cure them with LED or UV light, then use the dust brush to brush off the excess glitters.
For the strongest glitter finish, do the sugary finish, then apply top coat and cure.
* Please note that glitter will be easier to remove when finishing without top gel. Ageha charm on non-wipe gel is recommended for sugary finish.
* The image on left is how it shines under the normal lighting, and the one on right is when it is exposed to flash light.
Contents: 5g