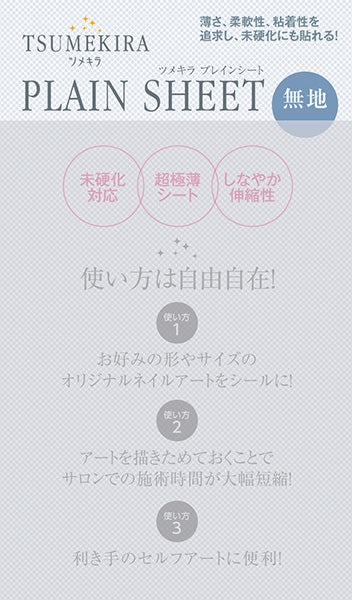 Tsumekira Plain Sheet SP-PLS-101
Plain sheet by Tsumekira for customizing your own sticker.
No Wiping Necessary
Super Thin Sheet
Great flexibility
Use as your heart desires!
Create original nail art of your desired shape and size!
Save time by drawing designs beforehand to use right away when you need them!
Great for self nail-art on your non-dominant hand!
Use freely as your heart desires! Tsumekira's thin perfect-fit sheet in a new, completely blank style!
 -------------------------------------------------------------------------
[How to use]
Draw your own designs onto the clear sheet. Once the art has dried, cut the stickers sheet with a cutter or scissors and use. 
*Be careful to cut only the sticker sheet and not the paper backing.
*If using tweezers, please use tweezers with a pointed tip to minimize damaging the edges.
Share